SAIGON SKYDECK BITEXCO - Dist. 1
Open to the public since 2011, the Saigon Skydeck sits on the 49th floor of the the Bitexco Financial Tower, a 68-floor skyscraper measuring in at a height of 262 meters (861 feet). The tower also houses Vietnam's first helipad, designed to resemble a lotus, Vietnam's national flower.
Guests will board the high-speed elevators (you can get from the ground floor to the top floor in less than 35 seconds!) to reach the observation deck. Apart from the spectacular 360-degree view of the city, guests can also interact with screens offering up interesting facts about the landmarks seen at various points in the city below their feet. An English-speaking guide will also be available on-site to offer more insights about the tower and the city. Local art exhibitions may also be found at the Skydeck, depending on the time of year, and there is a gift shop offering sales of locally produced tea and textiles.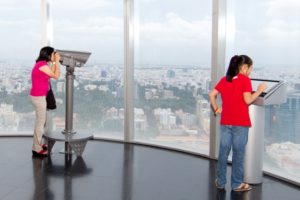 The tower is also home to several fine dining restaurants, a cinema, and a shopping center, perfect for some post-Skydeck entertainment before you exit the tower.
Here is some information for visitors before joining skydeck:
Operating hours: Monday to Sunday 9:30-21:30. Last tickets and entry 45 minutes prior to close.
Ticket for entry are to be purchased from the ticketing counter and cannot be re-used, refunded or exchanged.
Security reserves the right to inspect all bags.
Visitors are not permitted to take any food or beverage into the Skydeck.
The Skydekc Operator reserves the right to refuse entry to any person.
Person(s) who in the sole opinion of the Skydeck Operator are or appear to be under the influence of alcohol or drugs will be refused entry.
Saigon Skydeck is a non-smoking environment & chewing gum is strictly prohibited. Animals are not permitted in any part of the building.
Visitors are prohibited from carrying weapons, ammunition, explosives, flammable or volatile substances.
Visitors are admitted at their own risk and in full acknowledgement that The Skydeck Operator does not accept liability for any loss or injury howsoever incurred.
Lost children will be taken to the Reception area at the main entrance.
———–
🌟 Icasa Serviced Apartment
🏨 25 Street 46, Thao Dien, District 2 Ho Chi Minh City, VN

0167 769 8000
🌐 http://www.icasa.vn

 Agoda