LANTERN STREET - Dist. 5, HCMC
Are you ready to experience Mid Autumn Festival in Vietnam? If yes, iCasa Serviced Apartment suggest you a wonderful place for this occasion: LANTERN STREET.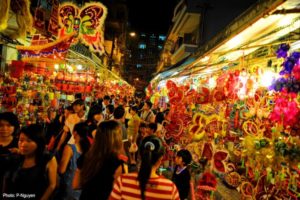 The second most important festival after TET, the Mid Autumn Festival (Vietnamese: Tết Trung Thu) is held on the 15th day of the 8th month in the Lunar Calendar. This normally falls in September or early October. This festival is best observed in Lương Nhữ Học street, District 5, Ho Chi Minh City, Vietnam. You are also likely to see lion dancing and folk singing contest around this area.  The Mid Autumn festival will be on September.
In the festival, Saigonese are rushing down to 'lantern street', to admire the beauty of sparkling lanterns in different shapes and colors.
As you make your way through this market space, you will notice a wide range of styles and designs. Some pricier lanterns contain wooden frames with golden Chinese inscriptions, while others are cheap and factory produced, bearing famous characters like Doraemon and Pikachu. It's hard not to feel a connection to some of Vietnam and China's mutual cultural history while you take in the timeless shapes and patterns of this fun and ceremonious block of lanterns. The colorful lanterns help children celebrate this special day by holding lanterns and singing songs as they walk around the neighborhood and savor moon-cake with friends and families.
Lương Như Học will be open 3 weeks before the Mid-Autumn Festival.
———–
🌟 Icasa Serviced Apartment
🏨 25 Street 46, Thao Dien, District 2 Ho Chi Minh City, VN

0167 769 8000
🌐 http://www.icasa.vn

 Agoda